TEREZA HUŘÍKOVÁ WORLD WOMAN-CHAMPION ON RUBENA TYRES
Tereza Huříková became a junior world woman-champion in cross country in Italian Livigno. She won with 63 second lead before the German woman Hanna Klein and third Tanja Zakeljova from Slovenia.
It was Tereza Huříková who won the first gold and the title of a junior world woman-champion in cross-country discipline on RUBENA tires in the world championship of mountain bikes in Italian Livigno. So Tereza's great wish came true and in a start – finish style, she went for a dreamed-of rainbow-like jersey. When riding through the post after the first ring, she already led a minute and a half and it was clear that if there were not something extraordinary, she would not miss the title when parting with the junior category. She gradually increased her lead up to two minutes and could allow herself to slow down the tempo and safely control her position. .
"It was a good ride for me. I knew I must be in front since the very beginning and was quite surprised I got quite a big lead so quickly. I am extremely happy that I was able to win after bad success last year," Tereza could not resist tears in the finish.
After the gold from last year's world championship in road time race, Tereza Huříková thus added another most valuable metal to her collection. Furthermore, she won two silvers from the European championship in cross country in 2003 and 2004.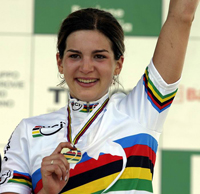 Photo