EDEX 2021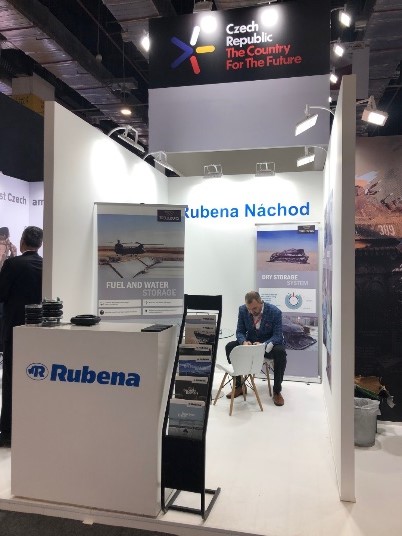 Rubena participated in the EDEX 2021 trade fair at the turn of November and December 2021, under the auspices of the Czech Defense and Security Industry Association and with the support of CzechTrade in Egypt and the Czech Embassy in Cairo at a common stand with Czech companies VOP, Mesit, Avec Chem, Excalibur Army, STV Group, Retia and Optokon.
The purpose of our participation was to present our products for use in civil and military logistics, for example for storage of water and fuels, to protect high-value property or machinery in remote places, in deserts or in the Arctic.
We have seen particular interest in flexible tanks, which are easily transportable solutions for storing liquids with the possibility of rapid deployment even in the most demanding conditions. Our dry storage system, which is designed to protect high-value assets, including military equipment, also attracted a lot of attention.
Dunlop type low-pressure pneumatic fenders have also attracted surprisingly great interest, playing a key role in the safe mooring of ships at sea in emergency situations or other operations, such as refueling. Visitors to our stand were also interested in other products, such as safety barriers and maritime level barrier systems.
We were convinced that the Rubena brand is still alive in Egypt, thanks to our V-belts, which we still supply to Egypt, but many visitors knew our bellows and especially the couplings, which have historically been associated with Rubena as a good quality brand.
By participating in the EDEX trade fair, we have gained valuable contacts, which we will develop intensively.
Sáva Térová
Product group Bags and Tanks