BUZULUK´s mixers are going to China
Two new mixers with volume 270 l were despatched on 15. - 18. 11.2004 to Chinese company Sailun, the third mixer will leave our company till the end of this year.
New laboratory mixer for company Mesnac will be put into production during December 2004.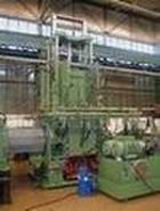 We would like to firm up Buzuluk activities in China by participation at exhibition "Rubber and Tire Industry Fair" placed in Qingdao on 15. - 17. 3. 2005. City Qingdao is located in province Shandong which is one of the quickest developing Chinese areas with specialization for rubber and pneumatic industry in present time.
Photo